We will be exploring Mississippi's rich aviation history in this series. From the early flight photographs shown here to the moon landing and beyond, MDAH collections document this exciting part of our past.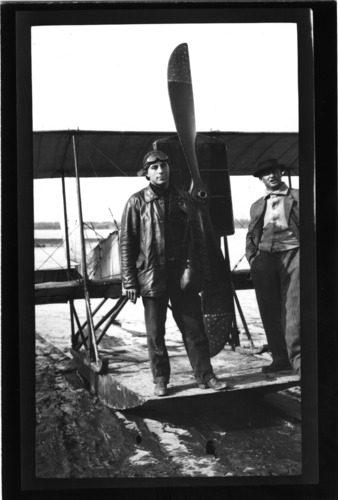 These black and white photographs from the Painter (Milton McFarland, Sr.) Collection depict an early airplane at Friars Point, a town on the Mississippi River in Coahoma County. The plane is identified by Painter as a Benoist Type XII in another photograph. This model was built around 1912 by Thomas Benoist, who had worked in the automotive industry before starting a successful flight school and airplane manufacturing company in 1911.
Benoist's exhibition pilot was named Antony Jannus–it seems that he is pictured above and Painter apparently mispelled his name in the caption as "Janas." At the time these photographs were taken, he may have been on the record setting 1912 over-water flight along the Missouri and Mississippi Rivers from Omaha, Nebraska to New Orleans.
This plane was the "floatplane" version of the Benoist XII. It was designed to take off from and land on water.
This scene may have been one of the forty-two exhibitions that Jannus performed on the flight to New Orleans. The exhibitions helped introduced the public to flying and also publicized the Benoist plane.
See more photographs of the Benoist XII plane at Friars Point in the Painter Collection exhibit in the Digital Archives.
Source:
Frederick W. Roos, "The Brief, Bright Aviation Career of St. Louis's Tom Benoist," American Institute of Aeronautics and Astronautics, Inc., 2005. http://www.airandspacemuseum.org/BenoistPaper.htm (accessed June 22, 2011).